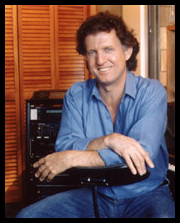 Q:
What is your musical philosophy?
A: My "musical philosophy" is not really an important factor in my music. I don't begin with some sort of conceptual description of reality and then try to create music which conforms to that picture. The reason that I take the trouble to compose music in the first place (and it does involve a lot of effort) is because "philosophy," as I understand it, doesn't get to what I most value. What I value is an open heart and I've never been able to think my way into such a condition. Music (and other forms of art) can assist in opening doors which are normally shut because of the dominance of our survival mechanisms. Mind filters out so much of our humanity. Great art, if we participate fully in it, gives us permission to feel and creates a space in which we can feel at a depth not ordinarily allowed.
Q: Did you get your musical motivation from your classical guitar teacher, Eduarco Sainz de la Maza?
A: Eduardo was not merely a good teacher, he was a great teacher. He was certainly a factor in my musical motivation. But I feel that I was born with the basic impulse to do music. Even a great teacher can't supply the basic motivation toward something as difficult as the mastery of an instrument. He can mold things, but the student has to already love it enough to persist regardless of the cost.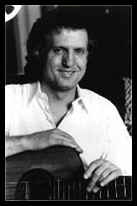 Q: What are your musical influences?
A: The most important influence throughout my career, both as performer and composer, is Western, classical music of the last five centuries. As a guitarist, I concentrated on 18th, 19th, and 20th century music and as a lutenist, I specialized in the 16th and 17th centuries. As a listener, of course, I've covered a lot of ground, from traditional Indian music to folk music from all over the world, to 20th century avant-garde music and popular music of our own time. There is a great deal of recorded music of all kinds available these days and most contemporary composers have been influenced by that diversity. My harmonic language, however, was basically intact in the Renaissance.
Q: Did you have a vision of success when you were growing up?
A: In our culture, "success" seems to mean the accumulation of wealth and in that sense, I've never had a vision of success. As a child and adolescent, "making money" always struck me as a very mysterious and unattractive affair and I wanted nothing to do with it. It seems to me that if your primary interest is to make a lot of money and accumulate the goods of life, then music or art is a very poor career choice. The chances of success (in that sense) are slim.
For an artist, the criteria of success is different. He or she wants the art to "succeed." A real artist loves what he makes more than he cares about what it may bring back to him. If you love what you make, you have to work it until it is beautiful, until it succeeds, in other words. When I was a performer I wanted the performance to succeed, so I played as if my life depended on it. As a composer I want my music to succeed, to be beautiful, and therefore useful to myself and others. So I struggle with it until its right.
Q: Tell us about your recording studio, and the type of technical equipment you use. Would you consider your studio "state-of-the-art"?
A: I have a 16-track tape recorder, an 8-track digital hard-disc recorder (Protools), 2 computer systems, several good reverbs, a very clean mixing board, the usual signal processing gear, the usual assemblage of 10 or so synthesizers and samplers, a great monitor system, miles of good wire, and an acoustically-treated room. Most of it would be considered state-of-the-art, although it is certainly not as extensive or as expensive as many commercial installations. But it is tailored exactly to my needs and since Nothing Above My Shoulders But the Evening, I've felt like I've been getting something like audiophile results.
I should add that this kind of description of the technical side of my work can be misleading. Many people have gotten the impression that I'm an "electronic" composer, that I use only synthesizers to create the sounds on my recordings. I do find synthesizers very useful and effective for certain kinds of sounds and occasionally I have produced purely "electronic" pieces (Celestial Soda Pop is an example), but in general, my pieces involve a combination of acoustic instruments (especially on melodic lines) and synthesized or sampled sounds. Over the last 10 years, I have used more and more acoustic instruments (normally performed by members of the San Francisco Orchestra). In fact, in Nothing Above My Shoulders But the Evening the acoustic element became dominant.
Childhood
Q: Where were you born?

A: "Although born in Utah, I was raised in West Texas, where my father was a lawyer and my mother, an artist. I was the second of four children, and the family was fairly ordinary and very stable. Both my mother and my older brother were classical pianists and I began studying piano at the age of 5 or 6."
Early training. Ray's classical training began very early with the piano. "When I turned 12, I asked my parents for a guitar (classical, of course) and shortly thereafter, I heard a recording of Adrés Segovia and was so moved (moved to tears in fact) that I knew what my life was going to be about."
Ray continues: "When I was a teenager, I wanted to be a great guitarist, a virtuoso, an impeccable soloist in other words; not because I wanted to be famous, but rather because the classical guitar seemed so beautiful to me that I couldn't stay away from it."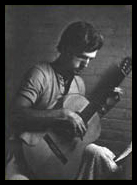 Playing the guitar
Training in Spain. At 18, Ray moved to Barcelona to study guitar with Eduardo Sainz de la Maza. "I studied classical guitar with Eduardo Sainz de la Maza in Barcelona for three years in the 60's. I was 18 when I first went to Spain — I had been through a year of college and was dissatisfied with my philosophy and psychology courses and had finally made up my mind about what I wanted to do".
"Eduardo was not merely a good teacher, he was a great teacher. I practiced 8 hours a day, saw him twice a week, and I covered a lot of ground in those three years. He was also a composer and I became increasingly interested in composition. I left Spain to return to the University of Texas in order to study composition and music theory." At age 21, Ray returned to Austin, where he spent the next three years studying composition at the University of Texas, and composing symphonic and chamber music, some of which was performed by the Dallas Symphony Orchestra.
At the University of Texas. At the University of Texas he was invited to join a group of Madrigal singers who needed a lutenist. Ray learned to play the lute within a matter of months. "I took up the lute 'accidentally', so to speak. When I returned to the University of Texas from Spain to study composition I learned that I had to satisfy a requirement for ensemble performance, which meant playing in a band or orchestra, or singing in the choir. I didn't want to do any of those things. Then I found out that the Madrigal Singers (a small vocal ensemble which specialized in early music) happened to have a lute (gathering dust in a closet) and it occurred to me to make a deal: I would learn to play the lute and would perform with the Madrigal Singers and would thereby satisfy the ensemble requirement. That's how it began. But then I discovered how much beautiful music there was from that period and I was hooked."
With the Renaissance Quartet in New York. Ray's growing expertise with the lute earned him a second invitation, this time from the Renaissance Quartet. He moved to New York City where he spent the next seven years performing with the quartet and other "Early Music" groups that were at the core of New York City's revival of Medieval, Renaissance, and Baroque music. Some of this time was spent in Provincetown, Cape Cod, where many of these groups would play during the summers.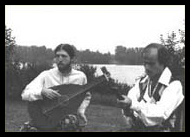 Performing on the lute with
an Early Music group in Maine

"The time I spent as a part of the early music scene in New York City in the late 60's and 70's was very valuable to me for several reasons. Prior to that time I was primarily a soloist. As a member of the Renaissance Quartet I had to learn how to play with other musicians, and this involved listening and responding to what I heard. I was fortunate to be able to work with some of the best musicians in the country, and as I got better as an ensemble player I discovered that performing chamber music was both more satisfying and more demanding than my efforts as a soloist."
| | | |
| --- | --- | --- |
| "The most exhilarating experiences I've had as a performer were in that context: playing with a few other great musicians whom I had gotten to know through years of work, in a situation where we were completely 'on' and sensitive to each other, and the audience was totally absorbed. With discipline, freedom and spontaneity become possible, and sometimes a 'cycle of energy' was created around the performers, music, and audience that was really remarkable — so much so that I was often unable to sleep until dawn after some performances." | | Another Early Music group in Provincetown, Cape Cod |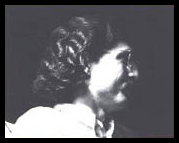 Performing in New York
Spiritual and creative growth. Ray eventually moved to a 125-acre farm in Maine, traveling around the country for performances. This seemingly idyllic situation eventually precipitated a profound "personal and spiritual crisis" in which he dropped all the trappings of his musical career and set out for California, where he began a period of intense study and spiritual growth with his Spiritual Teacher, Bhagavan Adi Da Samraj. (He has been a student since 1974.) Ray's presumption was that his musical career was over, and was somehow incompatible with spiritual life. But, over the years, Adi Da made it clear to Ray that this was not the case; that, in fact, music was Ray's "sadhana" (spiritual practice). Adi Da even suggested that Ray begin composing again, something that Ray hadn't even considered doing since his college days.
With renewed awareness and focus Ray immersed himself in his creative work again. "For reasons which I don't understand, I became compelled to create my own music and to begin an entirely new career. I never felt 'ambitious' relative to composing. I simply saw that if I didn't do it, I would be wasting my life."
Who Is Segovia? (from Kathleen Lynch): "Segovia was a Maine Coon cat who naturally passed away at the wonderful age of 23 ˝ years. He was our beloved companion and died gently in my arms. Segovia had no fear whatsoever he just lifted his little head back, raised his paws towards the sky and surrendered to what is greater than us all. At his death we placed him in our meditation hall and laid him out on a beautiful deep purple towel with flowers and candles all around him. We held a 3 day vigil and many of Segovia's human friends came by and sat in our hall and we all told him how much we loved and valued our relationship with him. It was a potent goodbye from all who loved him.
Segovia resembled a raccoon, was quite large, extremely relational, and highly intelligent. He'd greet you when you entered the house (if he liked you) by sitting in front of you and stretching out his right front paw waiting to be petted. He loved to eat and when he died we had a burial ceremony on our land for him and buried him with his food bowl.
Segovia liked to participate in whatever you were doing at the time. As you can see from the first two photos, Ray was having some new photographs taken at home, and Segovia jumped up on his lap to be a part of it. He was an esteemed member of our household for over 23 ˝ years and left a wound in our hearts when he passed. Every year on the anniversary of his passing we do a little ceremony in remembrance of the love and happiness he brought into our lives. Our spiritual teacher once said:
At Heart All are One